What is a Curly Cut and Should You Get One?
Are you tired of your curly hair being cut in the same way as straight hair. Do you struggle with frizz, uneven length, or lack of volume? If yes, then you might want to consider a curly cut! As a hair expert based in NJ, I recommend curly cuts for those who have curly hair. In this blog, I'll explain why a curly cut is the way to go!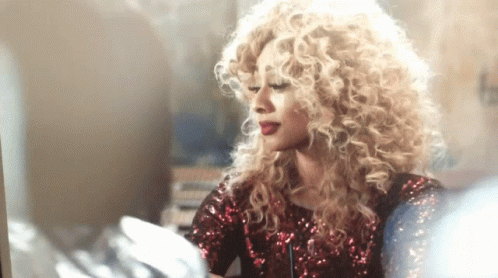 What is a curly cut? 
First things first, let's talk about what a curly cut is. Unlike a straight cut, a curly cut is specifically designed for curly hair. The goal is to shape your curls while considering the natural curl pattern, texture, and density of your hair. A curly cut takes into account the shrinkage factor, which means your hair may appear shorter when it's dry than when it's wet. A skilled hair stylist will cut your hair while it's dry to ensure that the final result is what you expect. I personally love to cut curly hair cry and then tweak any finishes after it is diffused and styled. 
Now, let's talk about why you should consider a curly cut. Here are a few reasons:
Enhance your natural curl pattern.
A curly cut will help you enhance your natural curl pattern, so your curls look bouncy and healthy. It's all about shaping your curls to create a flattering, face-framing style that works for your unique curl pattern. These curly cuts are primarily for guests that wear their curly pretty much all the time, rarely heat styling.

Say goodbye to frizz
Frizz is a common problem for those with curly hair, but a curly cut can help minimize it. By cutting your hair while it's dry, your stylist can see how your curls fall naturally and remove any damaged or split ends that could be contributing to frizz.

Manageable length
Curly hair can be deceptive when it comes to length. As mentioned before, shrinkage is a real thing, and your hair may appear shorter than it actually is. A curly cut takes this into account, so you don't end up with hair that's too short or too long.

Easy to style.
With a curly cut, styling your hair becomes easier. You won't have to struggle with straightening or manipulating your curls to look a certain way. Your curls will fall into place more naturally, and you'll spend less time trying to tame them.

Low maintenance
Unlike other haircuts, a curly cut is low maintenance. You won't have to worry about styling your hair every day or visiting the salon for touch-ups frequently. Your curls will maintain their shape and volume with minimal effort. This is of course if you have great products for your wash day! For recommendations check out my blog on how to manage curly hair! You can also message me on Instagram @briannalovesbalayage_. 
Summary
If you have curly hair, you might want to consider a curly cut. It will enhance your natural curl pattern, minimize frizz, give you manageable length, make styling easier, and be low maintenance. As a hair expert based in NJ, I highly recommend this haircut for all my curly-haired clients. So, book an appointment today, and let's give your curls the TLC they deserve!
---
About the Author
Brianna Thompson
Brianna is a highly skilled and licensed cosmetologist, stylist, and color expert at Studio 360 Salon in Chatham, NJ. She possesses a thorough understanding of hair products and the science behind hair and hairstyling.
More about Brianna